15 September 2016
Steamtank featuring Warhammer LARP 2016 in Russia, Moscow Region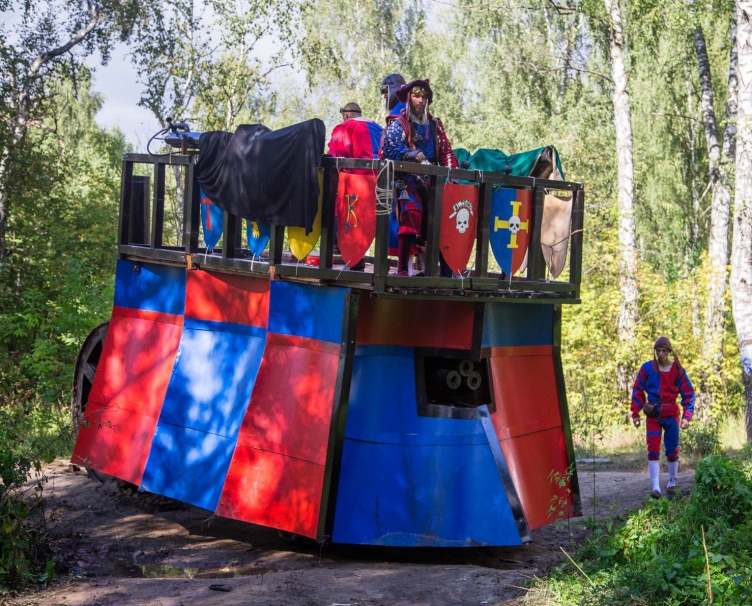 We can just show you a few photos of this outstanding steamtank and tell you how excited, to which degree amazed everyone was when first seeing it on the playfield of "Warhammer 2016. Stronghold of the Borderlands". But we feel obliged to do more and uncover a bit of a story behind the machine and the guys who made it. After all, it is a breakthrough that is taking LARP-games to the next level, at least here in Russia.
Building a tank was a very challenging, complex, labour-intensive project for a team of a few guys from Ryazan (a big town 200 km to the south-east of Moscow). Why did they decide to do that? Not just to show off, prove themselves that everything is possible but also to make a fairy tale come to life.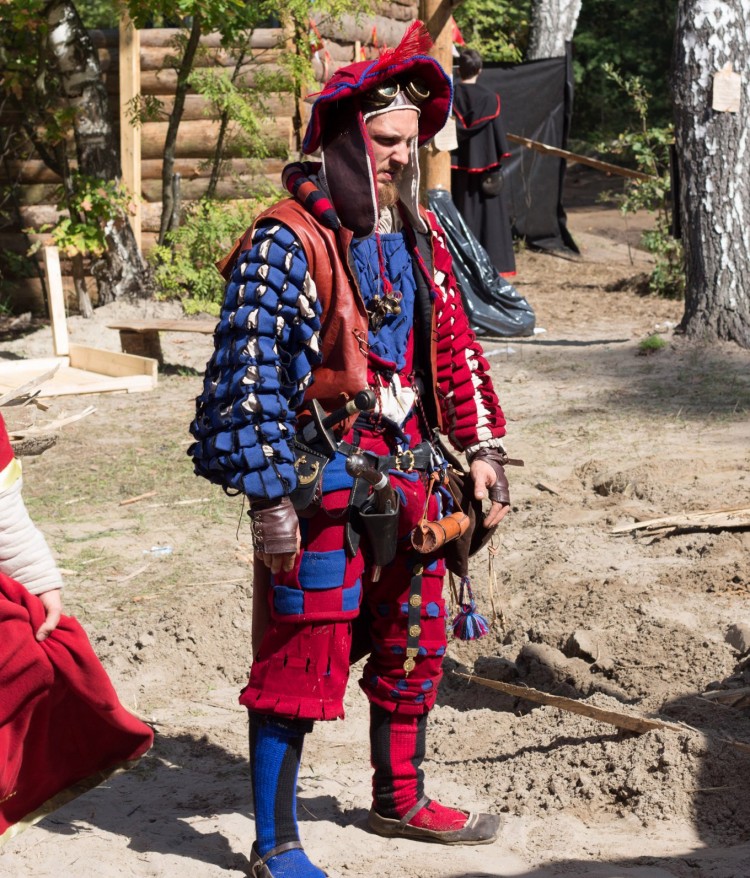 Vladimir Anikin
Vladimir Anikin, commander of the tank crew:
"It was like climbing the Everest with a 5-ton jumbo behind your back. A true test of will at the breaking point of human strength and capacity of the crew. We worked day and night, non-stop, under pouring rain, suffering from heat strokes, overcoming sickness and injuries. It all began on the 8th of March when we brought an old rusty truck to the building site. This was preceded by half a year of preparation. The work lasted half a year more. Building went on weekends and in the evenings on working days. Being completely exhausted, we spent last 30 days at the building site against all odds, working 12 hours a day till the sun hid behind the horizon.
Some team members quit the project as soon as they had realized its hardships, others stopped a few steps away from the top point. Only the most tough ones stayed to the end. Creating the machine changed people's minds, lit fire in their eyes, tempered character. None has remained the same.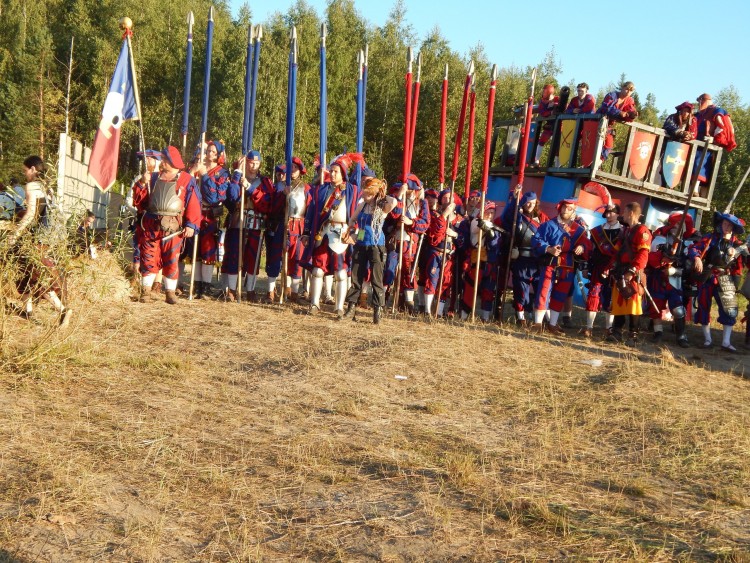 Why metal, not plywood? — asked many. Well, first we thought about plastic. But then we saw our truck "naked", with only car frame with one drive-axle and engine left of it, and plastic was rejected. A plastic tank can't turn up soil, cut trees, toss aside logs, grind bricks and smash down concrete pillars. But our tank was capable of all that and it did it. We created a real tank from the world of Warhammer, a live machine of destruction without any compromises. It was most pleasing to bring a come-to-life fairy tale into this world.
However not all things went as planned. A year of hard work wasn't enough. We had to finish the tank on the field and missed the opening parade as a result. We had to drive into the town of Noteburg (name of the game's location) because a large part of the game was happening there. We tried our luck and took the way where there were no roads at all. And succeeded. We were playing some genuine Empire engineers who brought a marvel of progress to a Sigmarforsaken little town. The tank then got stuck in the sands on the middle of the town and almost pulled it to pieces, though.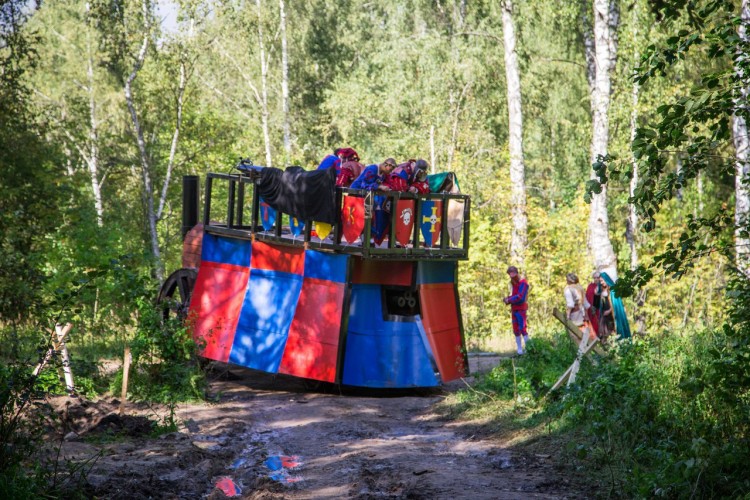 We made repairs without quitting the role. We spent nights looking for details, fixing and refining the tank to make a dangerous weapon in the service of the Empire out of a broken machine. It is a pity the game was too short, we wish we'd had one more day. Still we managed to burst our way through the sieging crowd after all strongholds had fallen, bring the tank to the isthmus and cover the gap in the defenses.
Well, the enemy may have looked forward to spectacular massive battles whereas there was just a couple of clashes in the end. Our red-blue Monteled team may have hoped for more, too. But it's only the beginning. A dream always comes at price. And next year we'll be better and stronger. And the fairy tale will become even more real than before!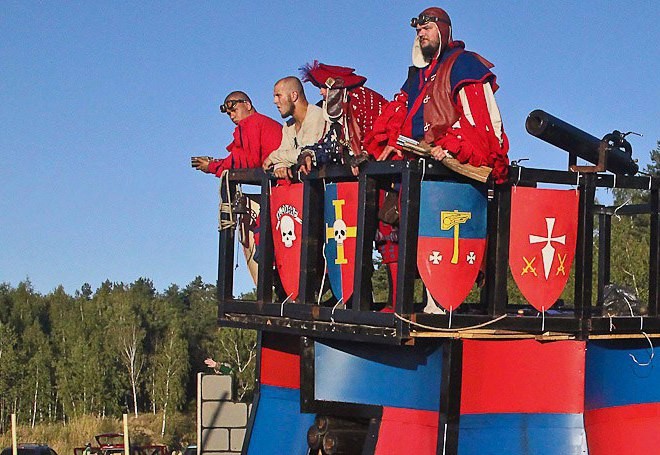 And of course, the tank wouldn't have appeared without other members of our crew — Igor Ivanov, Vladimir Vlasov, Alexander Kitaev, Sergey Eroshkin and Dmitriy Eroshkin".


Some videos for dessert? Enjoy watching and don't forget to share your impressions.