14 December 2015
Real Escape Game by SCRAP
Japanese Wikipedia suggests that the first ever real-life escape game was promoted by the company SCRAP, previously known for a free newspaper, in Kyoto in July 2007 (by the way, the same year the iPhone was released). The creator Takao Kato took inspiration from the "escape the room" video games and it's new popularity in the 2000s. That's why REG (Real Escape Game) is a real-life version of the video game trope where you are trapped in a room and must escape from a place filled with challenging puzzles and obstacles within a set amount of time. Some escape rooms are pure puzzle solving, while others have an atmospheric background to drive the action.
Real Escape Game by SCRAP™ (the registered trademark of SCRAP) now has more than 25 rooms across 12 cities in Japan, but only 2 of them are in English:
In Escape from the Red Room you find yourself locked in a room. There are no puzzles or codes around you - only red walls, mysterious props and two locked doors. You have 30 minutes to figure out the code that will unlock the exit!
Escape from the Haunted Manor is a Horror Hide-and-Seek. The story is about strange disappearances of persons. You have to sneak into the haunted house – the suspected kidnapper's hideout – while he's away to seek the truth behind these missing-person cases.
Though SCRAP has a chain of room locations around the country, there still seems to be a focus on events rather than rooms. REG events have been held in Japan and other countries in unique places such as multiple schools, ruined hospitals, amusement parks, stadiums, and churches and the events have built enthusiasm. For example, they once held an escape event at Tokyo Dome.
In the REG Event (unlike an escape room) there are many teams, each with six people, all sharing one room. You have 60 minutes to find the clues, solve the puzzles, and escape not the physical room but the situation instead. Such Real Escape Games are held in all sorts of fun venues with tons of different themes. Each game can only be played once – don't miss these limited engagements!
This event is available for English speaking players in Tokyo, but only until December 27th:
The game is a journey through the latest mysteries in TOKYO METRO. To know hidden all around you mysteries that even Japanese haven't seen before, you just have to buy a game kit for everyone in your group. There is no time limit. You can even play the game over several days so please enjoy the game at your own pace!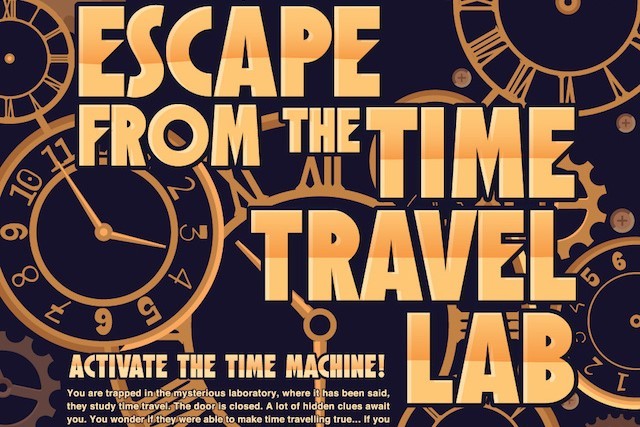 SCRAP Corporation is a pioneer in the new genre of Real World Adventure, which has become a driving force in the world. There are some locations of real escape games in the USA and Canada. The two most popular of them are:
In Escape from the Time Travel Lab you are trapped in the mysterious laboratory, where it has been said, they study time travel. If you cannot find the key to open the exit, you will drop into the spatiotemporal distortion and not able to return to this world. This mission is available in San Francisco, New York, Los Angeles and Toronto.
Escape from the Puzzle Room is full of weird patterns and mysterious codes with no key in sight. You find a bomb has been strapped to you. You have 60 minutes to find a way out. Otherwise… BOOM! Good luck! This escape room is available in San Francisco.
Here in the USA and Canada, in addition to offering a changing menu of traditional escape games at their permanent locations, they also host special large-scale events:
The Crazy Last Will of Dr. Mad will be held in NY on January 26th-27th, 2016. Over 50 years have passed since the death of Dr. Mad, a physicist known as the greatest genius of the last century. Can you unravel the mystery of his life's greatest work?